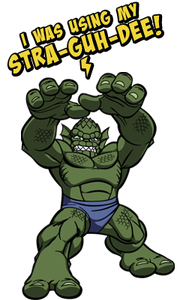 Abomination is a villain in Super Hero Squad Online.
Missions Released:Yes
Description
Edit
He's huge, mean and disgusting, It is twice stronger than the Hulk 'Calm'.  Usually partnered with Modok (who considers him a revolting idiot), Abomination is extraordinarily powerful and threatening, but just as easily duped by the Squaddies as by his Lethal Legion bosses.
Nicknames
Edit
Stinky
A-bom
The Professor
Ad blocker interference detected!
Wikia is a free-to-use site that makes money from advertising. We have a modified experience for viewers using ad blockers

Wikia is not accessible if you've made further modifications. Remove the custom ad blocker rule(s) and the page will load as expected.