Cost: 200 Gold
Boss: Magneto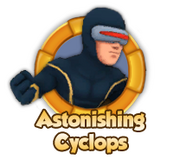 Astonishing Cyclops: Okay, listen up. Magneto's back and he's brought some friends - Iron friends. All of the Tony Stark's armor is under Magneto's control, and we're gonna get it back before it's too late.
Enemies:
Ad blocker interference detected!
Wikia is a free-to-use site that makes money from advertising. We have a modified experience for viewers using ad blockers

Wikia is not accessible if you've made further modifications. Remove the custom ad blocker rule(s) and the page will load as expected.