DescriptionEdit
Not only Dr. Hank McCoy one of the smartest men in the world, but he's suprisingly acrobatic for a for a big, furry, blue... Beast.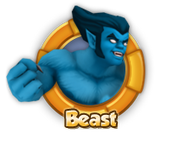 Team: X-men
Cost: 300 gold
Fight Style: Melee
Movement: Double Jump
Left Click
12 damage
7+7 damage
6+6 damage
14+14 damage
37 damage & knockdown
Beast (1) rolls into an enemy from a short distance, then (2) back hand springs into him, (3) roars at him, (4) performs a jumping spinning kick, and (5) bats him into the air.
His third attack may miss the target, but will hit those on either side of Beast.
Right Click
Leaping Beast: Leaps towards an enemy and claws at them, leaving an X on the ground. 36 damage.
X-periment: Mixes toxic chemicals and hurls them at a group of enemies. 27 damage and stun.
Great Big Beast Feet: Performs a handstand and spins kicking nearby enemies. 24+24 and knockdown.
Hero Up
Leaps at enemies within range and causes 45 damage and knockdown
Power Emotes
mixes toxic chemicals, and throws them. Affects nearby objects.
Performs a one handed hand stand while reading a book.
Roars in a failed attempt to sing. succeeds second time. Affects nearby objects.
Movement
Is able to Double Jump.
Beast joined the X-men as one of its founding members. Other founding members include Cyclops, Jean Grey, Iceman, and Angel. He now serves alongside the other X-Men, including Wolverine, Rogue, Nightcrawler, and more.
Beast is a fairly heavy hitter, but not as heavy as others. He is worth the 300 gold that he is priced at. Seasoned professionals will find him as a useful hero for missions such as Very Bad Breath, Magneteors, and All For Juggernaut. I would recommend this hero for anyone. His lower price makes him one of the easier heroes for new players to master.
http://superherosquadonline.wikispaces.com/Beast
http://marvel.com/universe/Beast
Ad blocker interference detected!
Wikia is a free-to-use site that makes money from advertising. We have a modified experience for viewers using ad blockers

Wikia is not accessible if you've made further modifications. Remove the custom ad blocker rule(s) and the page will load as expected.