¿Cant you speak chinese?
This People´s Republic Of
China
Description
Edit
Blinded in an accident, Dardevil uses an amazing Radar Sense to see the world around him. He is The Man Without Fear!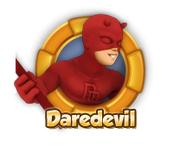 Character Information
Edit
Team: None
Playable: Yes
Cost: Free (Unlockable through Super Hero Serum)
Voice Actor: Unknown
Fight Style: Melee
Movement: Double Jump
Upon Entering: "Time to clean up this town."
Character Select: "Let me show you how fearless I am."
Using Door: "Seems safe to me!"
Eating Pizza: "Lets see if it's as good as it smells."
Citizen Greeting: "Glad you're doing well."
Going in Water: "Odorless, wet. Heh, I think it might be water."
Destroying Trouble-bot: "I can sense what you're doing and I don't like it."
Chasing Robber: "No one steals in my town."
Using Hotspot: N/A
Using Wheel: "I'm glad this wheel is so noisy."
Visiting Shop: "I'll check out what's on sale."
Visiting Parker House: "I'll check out what's on sale."
Sitting: *sigh* "Time for a break."
Other (Ice Cream, Cheese, Unable to lift, etc.): "You sound suspicious"
Solo Mission: "Looks like I'm going it alone."
Mission with Other Squads: "Thanks for the backup."
Mission Complete: "That was easy."
Mission Complete with Other Squads: "We work well together."
Combo Damage: (5+5)+(6+6)+17+35+(11+11+9+11+11)=127
Power Attack 1: The Kick Without Fear -- 1 Star
Leaps and kicks an enemy, dealing 31 Damage & Knockdown.

Power Attack 2: Devilish Flip Kick -- 2 Stars
Does a flip kick on an enemy, dealing 38 Damage & Knockdown, then activates Damage Boost and Knockdown effect for all attacks.

Power Attack 3: Blind Justice -- 3 Stars
Hits surrounding enemies into the air with billy clubs, dealing 40 Damage & Knockdown to all within range.

Hero Up
Puts billy clubs together and swings at surrounding enemies, dealing 73 Damage & Knockdown to all within range.