Description
Edit
A real showoff, Human Torch loves to shout "Flame On!" and burst into flames. Kids, don't try this at home!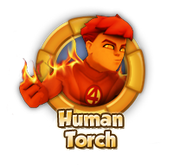 Character Information
Edit
Team: Fantastic Four
Playable: Yes
Cost: 600 Gold
Voice Actor: Antony Del Rio
Fight Style: Long range
Special Movement: Flight
Upon Entering: "Flame on!"
Character Select: "C'mon, we all know you're gonna pick me!"
Using Door: "Be right back, everybody."
Eating Pizza: "I'm sure your oven is good, but I may warm it up a bit."
Going in Water: "Hope I don't turn all this to steam."
Destroying Trouble-bot: "Don't waste my time."
Chasing Robber: "You don't really think you'll get away, do you?"
Using Hotspot: "Fire in the sky!"
Using Wheel: "Come on, lucky spin!"
Visiting Shop: "Hope I don't turn all this to steam."
Sitting: "My feet feel like they're on fire!"
Other (Ice Cream, Cheese, Unable to lift, etc.): "Hello."
Solo Mission: "Who's up for a beat-down Human Torch style?"
Mission with Other Squads: "I hope everyone's as ready as I am!"
Mission Complete: Unknown
Mission Complete with Other Squads: "What? That's it? Man, that was easy!"
Ad blocker interference detected!
Wikia is a free-to-use site that makes money from advertising. We have a modified experience for viewers using ad blockers

Wikia is not accessible if you've made further modifications. Remove the custom ad blocker rule(s) and the page will load as expected.