Description
Edit
War Machine's got a brand new suit and a brand new look as the Iron Patriot!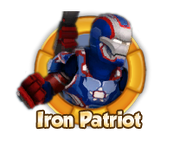 Character Information
Edit
Team: Iron Legion
Playable: Yes
Cost: 900
Voice Actor: Unknown
Fight Style: Ranged
Movement: Flight
TRIVIA
It is unknown if Eric Savin or the President or James Rhodes is in the suit
Upon Entering: "Reporting for duty."
Character Select: Unknown
Using Door: Unknown
Eating Pizza: Unknown
Citizen Greeting: Unknown
Going in Water: Unknown
Destroying Trouble-bot: Unknown
Chasing Robber: Unknown
Using Hotspot: Unknown
Visiting Shop: Unknown
Visiting Parker House: Unknown
Sitting: Unknown
Other (Ice Cream, Cheese, Unable to lift, etc.): Unknown
Solo Mission: Unknown
Mission with Other Squads: Unknown
Solo Mission Complete: Unknown
Mission Complete with Other Squads: "Alright, people, we're done here. Nice work."
Combo Damage: Unknown
Power Attack 1: Flamethrower Burst -- 1 Star
Power Attack 2: Tactical Upgrade
All heroes get a damage boost.
Power Attack 3: Shock and Awe
Hero Up
Unknown
Ad blocker interference detected!
Wikia is a free-to-use site that makes money from advertising. We have a modified experience for viewers using ad blockers

Wikia is not accessible if you've made further modifications. Remove the custom ad blocker rule(s) and the page will load as expected.