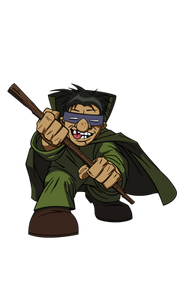 Mole Man is a villain in Super Hero Squad Online.
Description
Edit
A squinty little cave-dweller, Mole Man commands evil technology second only to Doom, as well as an array of subterranean LAVA MONSTERS from deep within the Earth's mantle -- AND an army of MOLE-PEOPLE. He's blown the doors off of many a hideout with his near-continuous breaking of wind, which has turned hero and villain alike from his company. Mole Man has apparently spent so much time among untapped, abundant natural gas deposits that he's become one.
Enemies
IRON MAN
THOR
HULK
WOLVERINE
SILVER SURFER
FALCON
SCARLET WITCH
Ad blocker interference detected!
Wikia is a free-to-use site that makes money from advertising. We have a modified experience for viewers using ad blockers

Wikia is not accessible if you've made further modifications. Remove the custom ad blocker rule(s) and the page will load as expected.