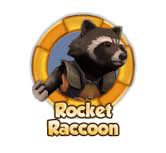 Rocket Raccoon is a playable hero available for all players in Super Hero Squad Online.
Description
Edit
Look out! Here comes a good thing in a small, furry package! Bang!
.
Rocket Raccoon can be found in the Rocket Box, for 500 fractals or 50 gold.
350 at level 19.
HeroUp Damage
Edit
69 and 33 damage up to 12 times at level 20.
Power Attacks Damage (1, 2, 3 )
Edit
Autofire Hijinks!- 17 damage up to 4 time with badge at level 12.
I've Got An App For That- Health, Armor and Speed boosts plus a knockdown effect for all attacks.
My Little Friends- 32 damage up to 3 times with badge at level 18.
Ad blocker interference detected!
Wikia is a free-to-use site that makes money from advertising. We have a modified experience for viewers using ad blockers

Wikia is not accessible if you've made further modifications. Remove the custom ad blocker rule(s) and the page will load as expected.