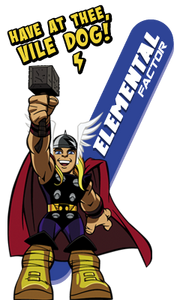 Thor is a hero in Super Hero Squad Online.
not be confused With Beta Ray Bill
Description
Edit
The thunder god is big, hearty and operatic, with a booming laugh and a slap on the back that can send you sailing across the room. With his hammer Mjolnir, Thor can summon storms -- and even go a few rounds with Hulk, if necessary. He loves nothing better than a good battle, a good party or a good tankard of ginger ale. As a god, Thor sometimes forgets that not everyone can hurl thunderbolts or walk through fire, and that most people have to obey the basic laws of physics.
Nicknames
Edit
Goldilocks
Lord of Thunder
Mighty Thor